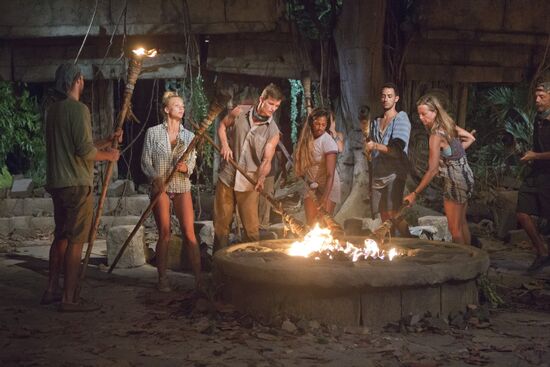 Brady Tribe welcome to Tribal Council. As much as I enjoy seeing each of you, this is not the place you want to be in this game. Before we begin, grab a torch and approach the flame. In this game, fire represents life. As long as you have a flame, you are alive in this game.
Before we vote, I've got a few questions for the tribe. Feel free to post answers to any of the general questions or those specific to you.
Let's start with the tribe selection. Is there anybody on that other tribe you were happy to not have on your tribe?
Early on in the season, some players like to stay quiet and not make themselves an early target. Is there anybody within your tribe who has really stood out for better or worse at this point?
Kachina- you really put yourself in a huge risk or reward position by competing in that first immunity challenge. Did you feel you were the best option for your tribe, or was that not a position you were hoping to find yourself this early?
Was everyone else willing to allow Kachina to play that because you didn't want to be in the position to send the tribe to Tribal, or did you believe Kachina was your best bet to win?
Of course, before the immunity challenge was the idol reward challenge. Knowing that there are clues to the idol already out there, how much do idols have to play into your voting strategy?
Speaking of voting strategy, there are a couple more twists for me to introduce into the game. This is a game designed for players willing to make big moves. Sometimes those moves pay off, sometimes they do not. But this season, making big moves and being seen as a threat can pay off more than any other season.
First, if you put yourself into position to receive votes, for once it could be to your advantage. If you attend Tribal Council and receive at least 3 votes against you (not including tiebreak votes or votes nullified by an idol) but survive the vote, you will receive an advantage in the game. Each individual will be eligible to earn this advantage only once during the season. Are you willing to risk it and try to get some votes thrown your way?
The second bit of strategy revolves around trust and your willingness to vote against your allies. If you vote for a player with whom you have voted together for 3 consecutive Tribal Councils, you will win a clue to the hidden immunity idol. In other words, if 4 players vote together for the same targets at 3 straight Tribals and then 1 of those 4 turn and vote for another member from within that alliance, they would receive a clue to the idol. The key is you must vote for the same person at each of the tribals no matter if the player you vote for is eliminated or not. Trusting an alliance and sticking together is always a good strategy, but now you can be rewarded if you're willing to make a big move and break away from an alliance.
Considering these added bits of strategy, does this possibly alter your voting plans going forward? Or are these twists irrelevant because you will vote as necessary whether it offers you additional reward or not?
It is now time to vote. Please post the player you would like to vote out of the game in your confessional area. You have until 6PM eastern Monday to vote. If you do not vote before the deadline, your vote will become a penalty vote against you.

Adam

Admin





Kachina- you really put yourself in a huge risk or reward position by competing in that first immunity challenge. Did you feel you were the best option for your tribe, or was that not a position you were hoping to find yourself this early?
Any individual challenges where the tribe nominates someone are bound to be risky. I offered because I didn't see anyone else post in our thread, but I admit I was hoping someone else would volunteer. I thought I had a good chance of winning and came close but I don't know everyone's strengths yet and wasn't comfortable putting anyone's name out there and putting them in an awkward position. I asked for that though. I did what I could do to help the tribe but it unfortunately didn't pay off but it does show I'm willing to take a risk to at least try to help the tribe. I think as we get to know each other we'll learn each others' strengths better and be able to make more informed decisions about this stuff next time.

Kachina





I'll collect the votes.
If you want to play a hidden immunity idol, now would be the time to do so...
Spoiler:

Nobody plays an idol.
First vote
Spoiler:
Spoiler:

2 votes R123k
Third vote
Spoiler:
Fourth vote
Spoiler:

We're tied - 2 votes Lady, 2 votes R123k
Spoiler:
Spoiler:

That's 4 votes R123k, 2 votes Lady, 2 votes remain
Spoiler:

The first player voted out of LSquared: Macquarie Harbour

You need to bring me your torch.

R123k...The tribe has spoken...it is time for you to go.
Spoiler:

You've voted out your first tribemate. Sometimes voting the first time is the hardest. The more important issue though is not having to vote another player out again right away. Head back to your camp.

Adam

Admin





Bye r123k. Only Admins can see the image Adam.

Aaron Shore






Adam

Admin







Similar topics
---
Permissions in this forum:
You
cannot
reply to topics in this forum